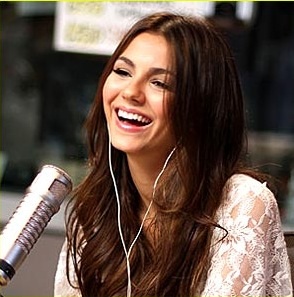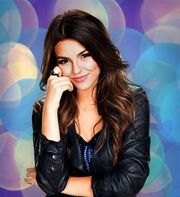 Victoria Dawn Justice is an American actress, singer-songwriter, and dancer. She is mostly known for her roles on Nickelodeon TV series "Zoey 101" and "Victorious".
Early LifeEdit
Victoria Justice was born on February 19, 1993, in Hollywood, Florida, to Serene and Zack Justice. She has a younger sister named Madison. Her father is of English, German, and Irish descent, and her mother is of Puerto Rican ancestry. Justice first developed an interest in acting when she was 8 years old after watching a children's commercial. She and her family relocated to Hollywood, California, in 2003. In 2005, she auditioned and was accepted into the musical theatre program at Los Angeles' Millikan Performing Arts Academy. Justice has done commercials for companies such as Ralph Lauren, Gap and Guess. She appeared in national commercials for Mervyn's, Peanut Butter Toast Crunch and Ovaltine.
In 2003, Victoria first began appear in guest roles on several TV series including the WB's Gilmore Girls and Everwood. Victoria also guest starred in The Suite Life of Zack & Cody in the episode "The Fairest of The All" as a junior beauty pageant winner named Rebecca whom Cody Martin had a crush on. In addition, Victoria had minor roles in the films Mary, When Do We Eat?, Silver Bells, The Garden, and Unknown. Victoria's first major role came in 2006 on the series Zoey 101. Her character (Lola Martinez) is a perky actress who quickly becomes best friends with other students, Zoey Brooks (Jamie Lynn Spears), Nicole Bristow (Alexa Nikolas), and Quinn Pensky (Erin Sanders). Justice replaced Dana Cruz (Kristin Herrera), who had left for personal reasons.
In 2009, Victoria played Tammi Dyson on Nickelodeon's original movie, Spectacular!. She also had a supporting role in the feature film The Kings of Appletown, starring Dylan and Cole Sprouse. In that same year, she also guest starred as herself on The Naked Brothers Band and also starred in the iCarly episode "iFight Shelby Marx". Victoria plays Shelby Marx, an MMA fighter, in that episode. Victoria also guest starred on a third Nickelodeon show, True Jackson, VP. In 2010, Victoria guest starred in one episode of The Troop. The Orlando Sentinel reported in August 2008 that Victoria had signed a talent deal with Nickelodeon and that the network was developing a new sitcom starring the actress. The series, Victorious, takes place in a performing arts high school and revolves around Victoria's character Tori Vega as she pursues her singing career. It premiered on March 27th, 2010 to 5.7 million viewers, making it the second biggest premiere for a live action series in Nickelodeon history. She and the whole Victorious cast did a Walmart Soundcheck concert on May 26th, 2011. Victoria is starring in a comedy with Chelsea Handler, Josh Pence, and Johnny Knoxville titled Fun Size, about a teenage girl who manages to lose her younger brother while babysitting him by taking him trick-or-treating on Halloween and must find him before her mother finds out. It premieres sometime in October 2012. She has recently gotten involved with "Girl Up", a United Nations foundation that addresses the needs of some of the world's hardest-to-reach adolescent girls by channeling the energy and compassion of American girls as a powerful voice for change. She went on an awareness trip for the cause to Central America (including Guatemala) on August 29th-31st. She will star alongside Britt Robertson and Dylan O'Brien in the 2012 Sundance movie, The First Time. In October 2012, she revealed she will release her debut album in 2013, stating "It's going to be pop". In Febuary 2nd, 2013 her show Victorious had been cancelled. Nickelodeon revealed it in August 10th, 2012 though.